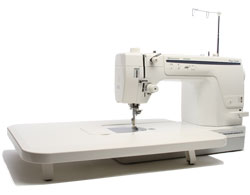 Last week, my friend Betty came over with her Viking Mega Quilter. She wanted me to try it out because we had been talking about machines with larger openings for quilting. This one has a 9" harp and is quite heavy. I compare sewing with this vs. my Viking Rose as to driving a truck vs. a Honda Civic. Both have their uses, and the Mega Quilter has some nice features. It cuts the thread when you finish a seam, the stitches are nice and even as you go along, it goes over multiple pieces of fabric and seams easily, and you can fill a bobbin without unthreading or changing where your needle is. The downsides include having to go way down under the machine to get at the bobbin, not being able to predict when you'll run out of bobbin thread (the Rose has a clear view window), the sheer size of the machine and its table (where would I store it?), and it's quite complicated to thread. I use the table my machine sits on to cut also, so would I eventually need to get yet another table for cutting or the machine?
Betty said she would consider selling it to me, but do I really want it? I certainly like the 9" harp, and quilted my Jack's Chain quilt easily in two short days last weekend. And that included machine stitching the binding. I have two more little quilts to quilt, so I asked Betty if she minded if I kept it a little longer. By the time I finish, I should know what I want to do. But every day, I change my mind. The three little quilts are going to the Parkinsons Comfort Project which likes its quilts to be well quilted because they will most likely be washed often.
Guess it's hard to make a decision at a time of year when I am buying a lot. There are a lot of other things to think about: Thanksgiving; Paul's book signing on Black Friday in Montpelier; finishing our Christmas letter; and wrapping and getting packages ready to mail to Holland, Colorado, and elsewhere. I started working on a border for the guild round robin yesterday. It's hand appliqued and, thank goodness, not due until January. But it is a nice project for this time of year and offers good opportunities for reflection. Happy Thanksgiving to all who read this!